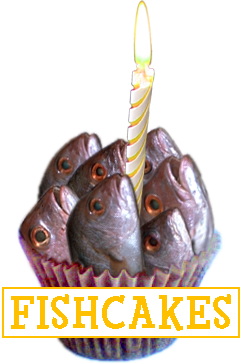 Make your tech work smarter
Fishcakes will help you make your tech work smarter. The core of what we do is helping you develop the knowledge and skills to understand how to get the most out of your technology. Whether it's learning to make your email work better, or fixing your iPhone when it just won't connect overseas, we'll help you develop the skills you need to navigate your tech. We're always on hand to help out in a crisis, but over time you'll discover that the best tech support person you'll ever find is you.
l

25 Years

Working with Apple

p

120+ iOS

iPhones, iPads Managed

g

300+ Macs

iMacs, MacBooks, Servers
---
Jargon Free
We believe transparency is key to a good working relationship and always aim to communicate with our clients in plain English. A big part of this is limiting technical jargon so you can better understand your tech. Our goal is to help you and your staff develop your own skills so that, over time, we reduce the time and costs spent supporting your tech.
Transparent
We put transparency at the core of our billing relationship with clients, tracking all time we spend working with you, so you get a complete list of the times and tasks we undertake on your behalf when billing. This allows us to analyse the work we do for you so that we can highlight areas where training will enable your staff to manage their tech themselves.
---
Tech support that isn't a drag
What we do
Fishcakes offers flexible IT consultancy and tech support tailored to you and your company's individual needs. We tend to focus on what we know best, and that's Apple. We bring over 25 years experience working with Macs and Mac OS, utilising a suite of cloud-based services that work well with all things Apple.
We work mainly with Apple based offices, supporting Macintosh computers, iPhones, iPads and Mac OS X Servers. We also help you with related equipment and services including broadband internet, Ethernet networks, WiFi networks, printers, phone systems, CCTV systems and alarms. We do support the occasional Windows PC, plus mobile phones and tablets from Android to Blackberry, but try to focus on our main strength which is Apple support
We work hard to understand the needs of our clients and the international art market that drives their business. With over 2 decades experience of providing support to this market, we've developed specialist knowledge and skills tailored to the needs of gallery owners, sales staff, registrars, art technicians and other key people that make up a thriving art gallery or studio team.
Mac and OS X
Whether it's helping you manage a fleet of iMacs and MacBooks or just keeping your existing Mac up-to-date with the latest software, we're here to help. We have a deep understanding of macOS and the Apple ecosystem that allows us to help you find the right app to meet a specific task, or help ensure your mission critical data is setup to sync and backup. We can also install and manage a macOS Server and support FileMaker database installations.
iPhone, iPad and iOS
The iPhone revolutionised the way we work today by allowing you to bring the office with you when on the go. We can help you manage the iPhones and iPads your staff use, keeping their iOS software up-to-date and identifying apps and services that will increase your productivity. We can also help ensure that they are properly configured so that everything you do is synced to Apple's iCloud so it's available on your Mac when you're working at the office.
Apple for Business
Fishcakes works with Apple Business who help us provide equipment and expertise tailored to your small business so that you can get the best out of your Mac, iPhone, iPad or Mac Server, including the software and apps that you use every day.
Device Enrollment Programme
Apple DEP gives you fast, streamlined control when deploying Macs within our organisation, plus helps manage your inventory of Macs, iPhones and iPads. It simplifies keeping on top of all the kit you have deployed to staff. From one login you can access details of all your equipment purchases from Apple.
Volume Purchase Programme
We can help you setup an Apple VPP portal that will allow you to purchase Mac OS X App Store and iOS App Store apps on a corporate level, giving you more control over the installation of the apps your staff need to use, including unified billing which greatly simplifies keeping track of the software you own.
Mobile Device Management
Adding an InSync MDM server with DEP and VPP, we can setup ZeroTouch deployment saving time and costs when setting up new equipment. We can also track your kit anywhere in the world, even issuing remote wipe commands to ensure that data security is maintained if something is lost or stolen.
Business Support
In addition to the standard Applecare support channels available to all Apple customers, we can get you setup with the Apple Business team so that your staff can make support appointments via the dedicated Business support channel, giving you business pricing and priority support in-store.
Apple Training
We can also help arrange training sessions so you can find out how make the most of your Apple equipment and apps, including free in-store Apple Workshops or specialised training at your office with Apple experts. The Business team can also help develop a long-term purchasing strategy to suit your cashflow.
We can also help you take advantage of a variety of other Apple Business programmes including creating a custom online store so you can make purchases with business pricing; access Business Briefings geared to specific technology topics and market sectors; setup trade-ins so you can get credit for old Apple kit; or enter into a leasing agreement so you can upgrade your Macs, iPhones or iPads whenever new models are released.
Working in the Clouds
These days connectivity is everything. Making sure that your staff is able to work from wherever they are in the world, from any device they might be using, is critical to helping your staff stay focused on growing your business. Fishcakes use a variety of cloud-based services to connect you to your tech, and ensure that all the components of your tech setup can connect to each other. No matter what your needs we aim to find a cloud solution that will connect your team and help you work smarter.
Google Workspace
If you work with email then you need to be in the cloud. Google Workspace is our cloud productivity suite of choice. It helps you and your team connect to each other, and to the world at large, so you can get work done from anywhere in the world on any device. It's simple to use and manage, plus is scalable from 1 right up to 10,000 users and beyond.
Office 365
Microsoft's Office apps, Word, Excel and PowerPoint, are core to productivity for most business these days. We can help you setup an Office 365 Business account so that you can manage all your Microsoft software installations, including unified billing, to more readily keep track of what your paying for and where it's deployed.
Adobe Cloud
We can help you better manage Adobe apps such as Photoshop, InDesign, Dreamweaver, Acrobat Pro and others by setting up an Adobe Cloud Business account. This allows you to globally manage all your Adobe licenses in one place, so you'll know what you've purchased, and which computers, tablets and phones it's installed on.
Artlogic
If you work in the art world then Artlogic offers the best cloud-based inventory management in the world. They have products geared towards galleries, artist's studios and collectors that help you manage everything from your artists, to your collectors, to your mailing list, and even your website. We can help you get setup and if needed, get your data migrated from old legacy systems into the Artlogic's cloud.
1Password Teams
This invaluable password management tool is at the base of all our tech support. We can help you setup 1Password to build an inventory of everything in your business related to tech support, from your computers and office equipment, to the online accounts you and your staff use. This can be shared with your team using a encrypted app so that everyone has secure access to relevant details.
Cloud Accounting
Getting your company finances off your bookkeeper's computer and into the Cloud can help transform your understanding of your business. We can work with you to support any cloud accounting service, but our preferred solutions are FreeAgent for smaller business and artist's studios or Xero for more complex needs. We can help get you setup and then offer support to help keep them secure.
Squarespace
For small brochure-style websites we recommend Squarespace which is a simple to use WYSIWYG website content management system (CMS) and hosting service. They have a wide selection of beautiful themes that are responsive to modern browsers, including mobile phones, so your website looks great no matter what device a customer uses to view it.
WordPress
If you need a more bespoke, fully featured website, then we can put together a team to help build and manage it using WordPress, the world's largest open source CMS platform. With a wide range of add-ons it can connect your site to everything from Google Analytics and Webmaster Tools, to social channels such as Facebook, Twitter or Instagram.
Productivity
We also support clients using a variety of cloud productivity apps including Mailchimp for list management; Toggl, Trello, Asana or Todoist for tasks management; TeamGantt for project management; Libib for cataloguing; plus various Google Workspace Marketplace apps to extend the functionality of our primary email, document sharing and and contacts platform.
---
How We Work
Fishcakes focuses primarily on the London art market, working with commercial and non-profit art galleries, artist's studios and international collectors, plus other small business and private residential clients. We feel the best avenue for a small company like ours is to find a niche and work to deliver the best support we can to a select group of clients by understanding them and the market that underpins their business.
Getting Support
We provide more than just support, we're that tech savvy staff member you wish you had when your technology just won't play nicely. You can contact us by phone and email most hours of the day, and we'll be on-hand to help via email, a phone conversation, remote support or onsite visits to your home or office.
Personal Support
We're a small team, so when you email or ring for support, you'll get directly through to someone who can help. We get to know our clients and their staff on a personal level when we visit you, so the voice at the end of the phone becomes a face you recognise and learn to trust.
Bespoke Teams
At Fishcakes we know we don't have the skills to do everything ourselves, so we work in partnership with a range of freelancers and service providers to bring specialist skills to jobs as required. Whatever the tech problem, we can put together a team to help you get it sorted.
Planning
At Fishcakes we try to take a holistic approach to tech support, not just dealing with problems as they arise, but more importantly working with you to identify areas where technology can help you and your staff increase efficiency. When planning for an effective IT strategy it is important to bear in mind the cost-benefit ratio between staff and equipment costs. While computer and services purchases represent significant capital outlay, these are typically a very small percentage of the relative staff costs. In a standard UK business environment the average of equipment provision is roughly £0.65 per hour, which should be weighed against the average hourly staff cost of £26. Computer down-time thus represents a significant financial burden and as such should be avoided. Keeping software and equipment up-to-date will never completely remove problems, but it will help minimise the risk of costly down-time.
Tech Audit
We always start with new clients by creating an audit of your existing IT setup. This includes everything from computers, mobiles and tablets, to your office network and broadband, to your website CMS, customer relationship database and even the online accounts you use to manage your brand. The audit helps you better understand all the tech you use so that we can work together to find solutions.
Action Plan
Once we've identified areas for improvement, we will work with you to agree a short-term set of projects to fix things that may be amiss, and then a longer-term strategy for keeping your office computers, software, peripherals, network and related services updated to the latest possible specification. The goal is to deliver a stable working environment which ensures staff productivity, allowing you to focus on your core business.
Registered Nonprofits
Fishcakes believe in supporting nonprofits so offer a 25% discount for all clients registered with the UK Charities Commission. We can help get you setup a charities and education account to access Apple Education pricing. We can also help get you setup with the Charity Digital who have a portal TT-Exchange providing access to discounted and free software and services from a range of technology companies, including free Google G Suite, discounted Office 365 licenses, reduced pricing for Adobe Cloud subscriptions, plus a variety of other goodies. Even if you don't work with us, if you're a non-profit then make sure to signup for this amazing resource!
Residential Clients
Fishcakes are happy to provide support to residential clients in the London area, whether you're an art collector who needs help managing your art collection, or just someone who needs help with something like improving the WiFi coverage in your home. We offer a 10% discount to non-VAT registered residential clients and can deliver most of the same services we offer to our business clients.
---
Ready to find out more?
If it sounds like our skills at Fishcakes match your tech support needs then just give us a ring on +44 (0)20 7387 0509 to arrange a free consultation.
---
Your Privacy
Fishcakes values your privacy and are committed to protecting the privacy of our clients and customers. Read our Privacy Policy.
---